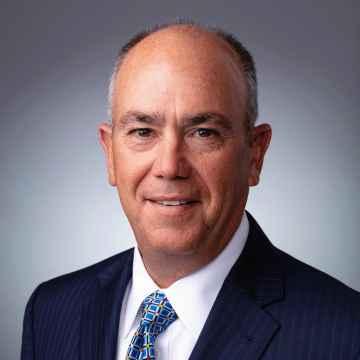 Mr. Harry Roberts
Missouri Military Advocate
State of Missouri
Harry Roberts was appointed as the Military Advocate for the State of Missouri in January 2022. The Military Advocate serves a 6-year term in office, upon nomination by the Governor and with the advice and consent of the Missouri Senate. The position was created by the General Assembly in 2015 which established the Office of Military Advocate, an agency charged with the responsibility of coordinating efforts to preserve and enhance Missouri's military installations and agencies and supporting the success of the state's defense businesses. The Military Advocate also serves as the Executive Director of the Missouri Military Preparedness and Enhancement Commission. As the Governor's military affairs representative, the Military Advocate serves as the liaison between state and federal branches of government and provides enhanced communication to Missouri government leaders and installation communities in all efforts to ensure the long-term sustainability of the state's military assets.
Mr. Roberts' official public service began when he was elected to Presiding Commissioner of Buchanan County in 2014, where he served one four-year term from January 1, 2015, through December 31, 2018. As presiding commissioner, he successfully advocated for funding of the 139th Airlift Wing located at Rosecrans Airport and numerous MILCON projects. During his term, Buchanan County also welcomed many new businesses, including Daily's, a premium bacon manufacturer, and SchutzContainer.
Mr. Roberts also served as President of the Board for Buchanan County Emergency Medical Services from 2015 –2018. BCEMS is the ambulance provider for all of Buchanan County and was six months into its infancy in January 2015 without a headquarters. Instead, it was leasing space from MOSAIC/Heartland Health, who had discontinued services six months prior. By the end of 2018, they had constructed and paid for a headquarters and secured two strategically located hard posts that allowed the county to operate the ambulances at a 33% reduction in cost and improved response times.
Mr. Roberts most recently served as the Deputy Chief of Staff to Missouri Secretary of State Jay Ashcroft since May 1, 2019.