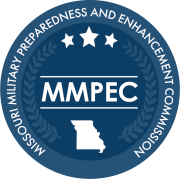 The Military Preparedness and Enhancement Commission's purpose is to design and implement measures intended to protect, retain, and enhance the present and future mission capabilities at the military posts or bases within the state. Missouri's military activities play an integral role in the state's economy, providing 275,000 direct and indirect jobs.
About Our Commission
The eleven-member commission consists of two members of the Missouri Senate, two members of the Missouri House of Representatives and five members appointed by the governor. The Chairman of the Missouri Veterans' Commission or designee and the director of the Department of Economic Development or designee serve ex officio.